Nannup, Western Australia, Australia - Iredale Pedersen Hook Photography by Peter Bennets With a population of just 600 people, the town of Nannup lies 280 kilometres...
Santa Rosa, California - Amy A. Alper Beautiful location, restricting views from the inside - this was the situation with the 1920's weekend cabin located near a...
Westbrook, Connecticut - Dave Herrle Photography: Sarah Grote Year Built: 2013 Hiking the Appalachian Trail in 2007 was a life-changing experience for David Herrle. The time he spent in the woods made...
Montreal, Canada - Moshe Safdie Year built: 1964 to 1967 Habitat 67 is, without question, one of the most important and iconic multi-family developments globally. But...
The Great Ocean Road  Victoria  Australia  -  F2 Architecture Great Ocean Road is one of the world's great scenic destinations. Facing the Southern Ocean, Pole...
Belmont, MA, USA - Charles Rose Architects Project Year :     2004 Photographs :     John Edward Linden Photography A vinyl-clad Colonial structure used to sit at the...
Rural Connecticut  USA  - Daniel Libeskind Built area:     185 m2  (2,000 sq. ft.) Year:     2010 Let's not pretend here... we're fairly certain that Daniel...
Roppongi (Tokyo) Japan  -  Mejiro Studios Built area:     87.5m2  (945 sq. ft.) This is definitely a home for very confident people.  The entire focus...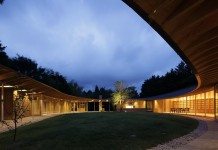 Hakone, Kanagawa, Japan  -  Shigeru Ban Architects Built area:     453 m2  (4,900 sf) Site area:     1,770 m2  (19,100 sf) Year built:    ...
Western Port Vic Australia - BKK Architects Year built:     2009 Built area:     349m2+   (3,770 sf) Photography:     Peter Bennetts Sitting on a coastal...
A mango farm somewhere in North-East Thailand  -  Steve Areen... Built area:    500 sq. ft.  (46 m2) + hammock ;) Steve Areen went from flight...