Australia - Beaumont Concepts  Living Area:      69.29m2 Deck:      23.76m2 Labelled as the Eco Balanced 1, this home has been awarded national recognition by both...
Santa Rosa, California - Amy A. Alper Beautiful location, restricting views from the inside - this was the situation with the 1920's weekend cabin located near a...
Westbrook, Connecticut - Dave Herrle Photography: Sarah Grote Year Built: 2013 Hiking the Appalachian Trail in 2007 was a life-changing experience for David Herrle. The time he spent in the woods made...
Place de la Madeleine, Paris  -  Ateliers Michael Herrman Built area:     140m2  (1,512 sq. ft.) Paris may be the city of dreams, but it's...
Edgartown, Massachusetts - Hutker Architects Built area: 650m2 (6,750 sq ft) Year Complete: 2010 Photography: Brian Vanden Brink At first glance, it's hard to believe that this home is...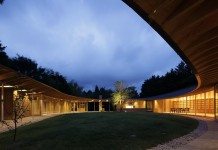 Hakone, Kanagawa, Japan  -  Shigeru Ban Architects Built area:     453 m2  (4,900 sf) Site area:     1,770 m2  (19,100 sf) Year built:    ...
Rural Connecticut  USA  - Daniel Libeskind Built area:     185 m2  (2,000 sq. ft.) Year:     2010 Let's not pretend here... we're fairly certain that Daniel...
Historical evidence suggests humans have been living underground for millennia, first in caves and then later in shallow excavations roofed with sticks, mud and...
Yokohama Kanagawa JAPAN   -  Takeshi Hosaka Architects Year:  2012 Built area:  85 m2  (920 sq ft) We think this home is an elegant solution to a common...
Ho Chi Minh City Vietnam - Vo Trong Nghia Built:  2011 Area:  250m2 (2,700 sq ft) Vo Trong Nghia is unquestionably one of the world's great architects.  After...
Texas - Arched Cabins While custom tiny homes offer a simpler and less expensive lifestyle, most of them pretty much require robbing the bank before you...