A mango farm somewhere in North-East Thailand  -  Steve Areen... Built area:    500 sq. ft.  (46 m2) + hammock ;) Steve Areen went from flight...
Santa Rosa, California - Amy A. Alper Beautiful location, restricting views from the inside - this was the situation with the 1920's weekend cabin located near a...
Westbrook, Connecticut - Dave Herrle Photography: Sarah Grote Year Built: 2013 Hiking the Appalachian Trail in 2007 was a life-changing experience for David Herrle. The time he spent in the woods made...
Place de la Madeleine, Paris  -  Ateliers Michael Herrman Built area:     140m2  (1,512 sq. ft.) Paris may be the city of dreams, but it's...
Stockholm Archipelago, Sweden - Widjedal Racki Bergerhoff Architects Year Built:     2004 Built Area:    150m2 including sauna area  (1,620 sq. ft.) Photography:  Lindman Photography Set on an unspoiled...
Atlanta Georgia - Peter Bahouth Photography: Jane Field-Lewis Tucked away in the middle of an Atlanta backyard, is this three-room treehouse strung together with wooden bridges.  Owner...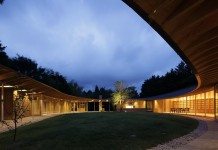 Hakone, Kanagawa, Japan  -  Shigeru Ban Architects Built area:     453 m2  (4,900 sf) Site area:     1,770 m2  (19,100 sf) Year built:    ...
Shibuya  Tokyo  Japan  -  Masanori Kuwabara, Sabaoarch Site area:     40.12m2  (433 sq ft) Building envelope:     24.06M2  (260 sq ft) Floor area:    ...
Newtown, Johannesburg, South Africa - Citiq One doesn't need to look hard to find unused, unloved buildings in the older parts of our cities.  Warehouses...
Historical evidence suggests humans have been living underground for millennia, first in caves and then later in shallow excavations roofed with sticks, mud and...
Madrid, Spain - MYCC Built area: 21.0 sqm Year built: 2012 Photography: Elena Almagro From the architect. This singular urban shelter is just twenty square meters and nevertheless...