Colorado USA  -  Pioneer Log Homes Area: 925 m2  (10,000 sq. ft.) You don't have to be a fan of log homes to appreciate the amazing workmanship...
Santa Rosa, California - Amy A. Alper Beautiful location, restricting views from the inside - this was the situation with the 1920's weekend cabin located near a...
Westbrook, Connecticut - Dave Herrle Photography: Sarah Grote Year Built: 2013 Hiking the Appalachian Trail in 2007 was a life-changing experience for David Herrle. The time he spent in the woods made...
Leiden, The Netherlands - 24H Architecture Project area: 380 sqm Project year: 2011 Photographs: Boris Zeisser 24H In an experimental project, 18 townhouse lots were allocated with a...
Daintree FNQ Australia  -  M3 Architecture The Daintree is one of Australia's iconic tropical rainforest regions. It abounds with lush vegetation, cassowaries, tree kangaroos and...
Kinderdijk, Netherlands - APEcolodges Click on any image to start lightbox display. Use your Esc key to close the lightbox. You can also view the...
Historical evidence suggests humans have been living underground for millennia, first in caves and then later in shallow excavations roofed with sticks, mud and...
Roppongi (Tokyo) Japan  -  Mejiro Studios Built area:     87.5m2  (945 sq. ft.) This is definitely a home for very confident people.  The entire focus...
South Bass Island, Ohio - Ship on the Bay Usable area:     7,000 sq ft  (648 m2) Year built:     1924 Year landlubbered:     1986 Imagine...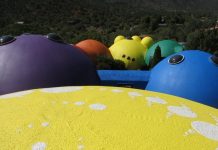 Easter eggs in Arizona - Monolithic Domes Year built:    2011 Site area:     3.63 acres  (1.47 hectares) Built area:    5865 sq. ft.  (543 m2) eclectic...
Hay-on-Wye, Wales Can you imagine spending a holiday literally on a bus, in the countryside and enjoying a uniquely relaxing ride? Well, you can in...