Project Year :     2017
Developed Area :     280.0 m2
Photographs :   Nelson Garrido
The House in Oporto is an unassuming home to a single family. From the outside, it appears that the house has nothing special to offer. There is nothing extraordinary, so to speak. But the monotony of the concrete façade is broken by glass windows and metal trimmings.
Large panes allow plenty of natural light to stream in, eliminating the need for artificial lights. These also provide excellent ventilation throughout the house. White walls that look almost too sterile contrast with timber flooring. Monochromatic walls and other surfaces continue all throughout the house.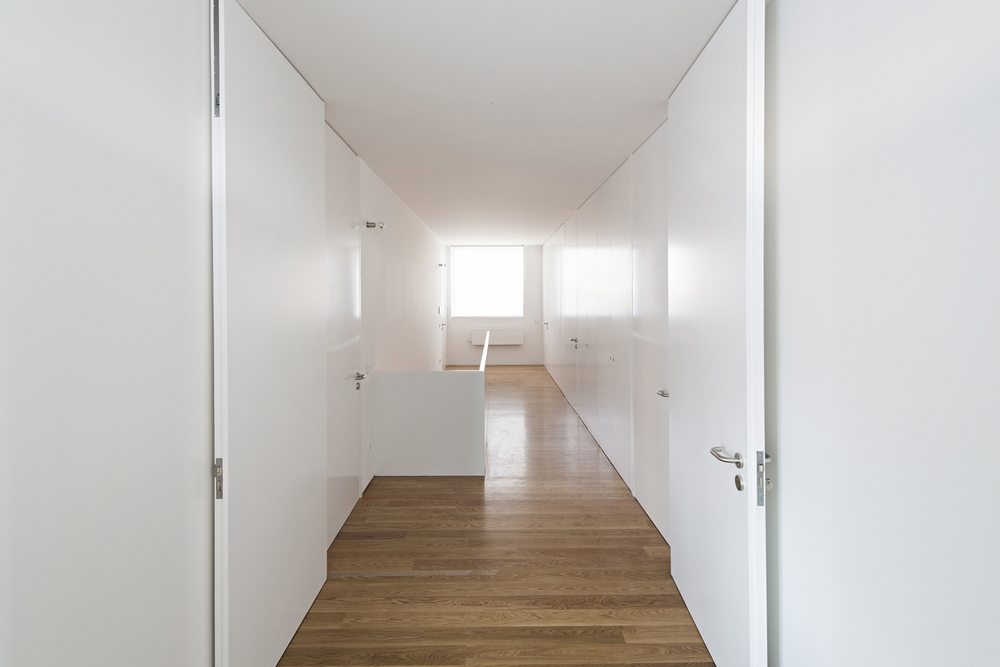 House in Oporto is simple, direct to the point, and basic. It eliminates what is unnecessary and zooms in on the essentials. This is pretty much the recipe for healthy living.
Notes from the Architect:
The project presents a single-family home divided in two separate volumes – main house and external supporting facilities – arranged in order to confer a rational balance to the diversity of uses to the surrounding outside spaces.
The house has two floors. The ground floor has a garage for two cars, a kitchen and a living room with a small home office. The 1st floor has four bedrooms, toilets and a laundry room.
The exterior spaces are divided into two groups; access to the main house – gray entretons – and garden spaces which have direct relation to the living room, kitchen and balcony of the rooms.
The refined texture of the concrete in the walls and exterior ceilings, metals and glass are the main constructive elements.
Click on any image to start lightbox display. Use your Esc key to close the lightbox. You can also view the images as a slideshow if you prefer. 😎
Exterior Views:
Interior Views:
Drawing Views:
While we're on the subject of concrete, check out Concrete Box House found in the United States.