Project Year :    2016
Developed Area :    450.0 m2
Photographs :    Lawrence Choo, Michael Khong
MERU House is a large contemporary residence that gives off a barn-like feel. But it is more than a barn – the house is actually striking.
Sitting in a triangular piece of land, the house is surrounded by greenery. The outdoors has a lot of wide open spaces with trees, shrubs, and grass. Large glass windows bring the outdoors in – or the indoors out. This is particularly evident in the spacious living room.
Inside, white walls contrast with natural timber. This white-timber combination is predominant all throughout the interior. The dining area features a double height ceiling emphasized by a huge chandelier. One of the focal points of the house is a grand staircase that looks almost sculptural.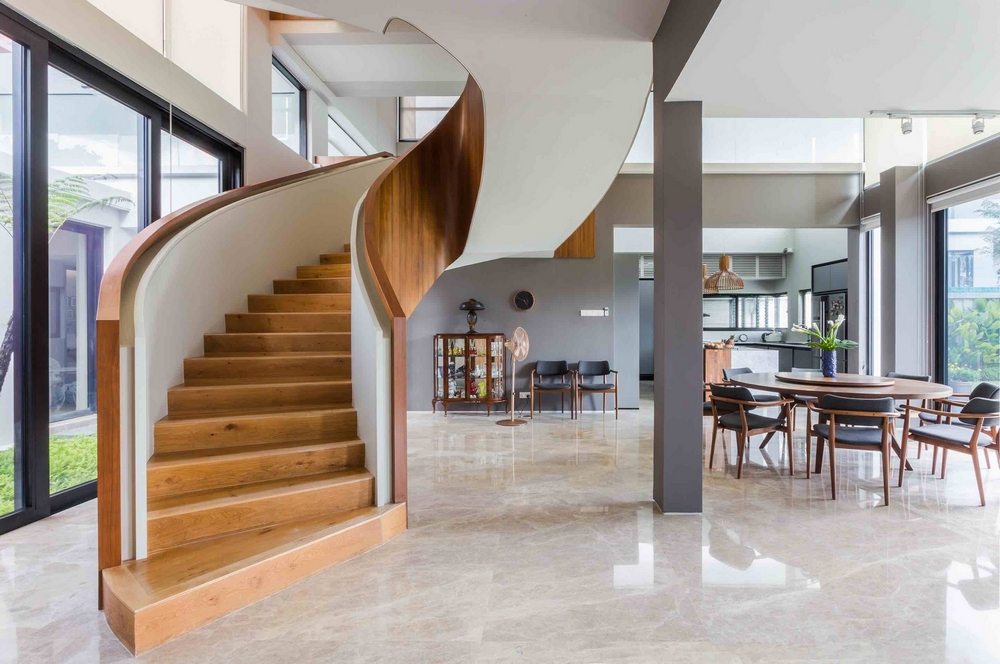 MERU House boasts of a wind catcher and an on-site rainwater harvesting system. Double brick cavity walls ensures a comfortable indoor climate.
Notes from the Architect:
It all started back in the UK around 2009, when architects Kenny and Sin were still working in London. The brief was to design a family home. Both architects were trained in the school of Architecture at the University of Bath.
Throughout their career, they worked for Arup Associates and PRP Architects respectively. Their works often have an emphasis in the volume and spatial expression, which is reflected in this barn-like Meru house. When the project first started, it took great effort to get contractors to fabricate details as intended. Travelling back and forth wasn't an ideal solution either. After living in the UK for 15 years, both reside in Malaysia, construction took place in 2013 and completed in turn of 2017. The house has been designed using passive design and energy efficient approach. Building orientation, prevailing wind directions and the tropical monsoon season patterns are all being considered. Wind catcher is used to cool the inside of the house, in combination with two strategically located courtyards, as an overall ventilation and heat movement strategy.
Hot air is drawn upward due to temperature gradient, assisted by prevailing wind flowing pass the catcher, creating stack effect through volumetric play. Greater airflow is enhanced with cross ventilation louvers at various height levels. Deep recessed verandas, balconies and vertical fins are part of the key elements of passive design. Veranda is located around the perimeter of the house. It forms a filtering element of the house from hot sun, as well as the tropical rainstorm. Family gets to appreciate their garden and enjoy outdoor living where possible. There is an on-site rainwater harvesting system whereby rainwater is collected and stored in an underground concrete tank, keeping the water cooled below ground. Although it is uncommon in Malaysia, double brick cavity wall is used for all external walls. The cavity wall helps to alleviate the excessive heat gain exposure as well as maintaining an indoor climate comfort.
Click on any image to start lightbox display. Use your Esc key to close the lightbox. You can also view the images as a slideshow if you prefer. 😎
Exterior View :
Interior View :
Drawing View :
Cantilever House is another residence in Malaysia that you have to see…