Last Updated on
Melbourne Australia  www.maynardarchitects.com
This is an extension to an inner Melbourne home. Faced with multiple challenges from shading to integration, Andrew Maynard absolutely stepped outside of 'the square'. You'll find a lot more detail including videos, at http://www.maynardarchitects.com/Site/houses/Pages/Hill_House.html  (Architects comments are below the gallery)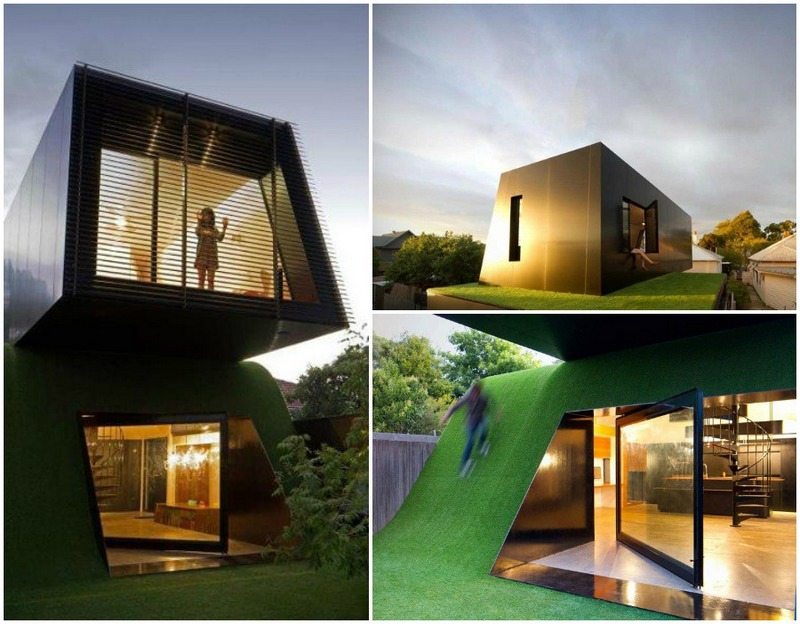 It's a fascinating project that definitely ticks most boxes, but do you feel it integrates with the existing building? Do you feel there is a need to be empathetic to the surrounding architecture and man made environment?
We'd love to know your thoughts but because we're not psychics, you'll have to type them here first :-) SHARE this post with your friends so that we can build a community. And don't forget to LIKE us if you haven't already!
Click on any image to start lightbox display.  Use your Esc key to close the lightbox.  You can also view the images as a slideshow if you prefer  8-)
"Rather than repeating past mistakes and extending to the rear of this existing home, the proposal was to build a new structure on the rear boundary, the southern edge of the block, upon the footprint of what had been, until now, the back yard. The new structure faces the sun, the pure cantilevered box above acts as the passive solar eave, cutting out summer sun, while letting winter sun flood in.
Following the decision to build at the rear of the block a ubiquitous modern box was first imagined. Soon it seemed necessary to pursue the opportunity to activate this new, once shaded, now sunny facade. A seat along the new northern facade? Perhaps a series of steps like the Scalinata della Trinità dei Monti? But how does one lounge in the sun on steps. Perhaps a slope instead …. And the hill house evolved/emerged…"
If you like this design concept, you will also want to view the 1880's Renovation…