If you find yourself praying for a bigger home, perhaps converting a church is your solution. They're always lofty so even a small church offers the opportunity of a significant mezzanine level and possibly, an attic above!
With the decline in church attendances in recent decades, increasing numbers of churches are becoming vacant. Here are 42 inspiring photos to get you thinking…
Year built:     1880 / 2013
Photography:     Nick Stephenson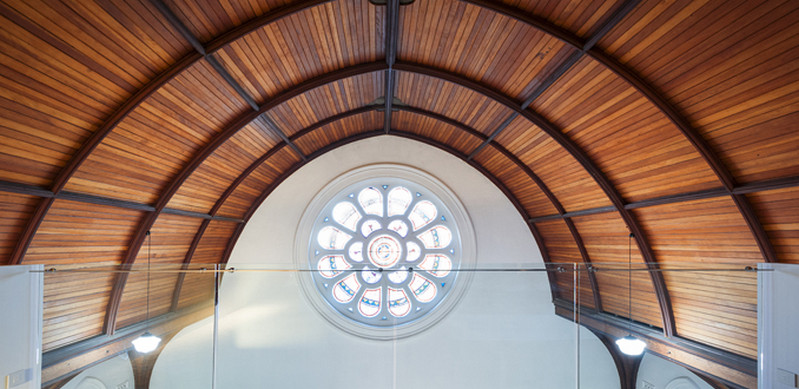 The project brief was to convert an existing church from the 1880′s, into a contemporary modern home for a family of four. Strict planning regulations dictated that there shall be no alterations to the existing external appearance to the building. The resultant design fills the volume yet respects the skin in which the new dwelling resides. (12 photos below)
Year Built:     1876 / 2012
Situated some 250 kilometres south-west of Sydney, Laggan Church was originally built in 1876 .This historic building has had several lives including as a church until the 1930s and then as a shearing shed until the turn of last century. In 2011 it was re-imagined as a private residence using salvaged original materials wherever possible.
The character of previous lives has been retained, while the addition of a new layer of luxury and design has created a very special residence. The joinery includes colour references to stained glass and a super graphic of a cross, just to remind occupants where they are! (15 photos below)
Laggan church is available for holiday rentals. For details, click here…
Year Converted:     2013
Converted into two apartments built around a central courtyard, this old church has a historical exterior with a light, bright and modern interior. Timber decks, accessed by glass walls, bring the outdoors in, with clear louvres creating excellent ventilation. (6 more images below)
Year built:     1892 / 2012
Lot size:     417 m2 (4,500 sq. ft.)
Built area:     520 m2  (5,600 sq. ft.)
Photography:     Axiom Photography
Now a luxury five-bedroom home with open plan living, dining and entertaining looking out over the swimming pool. A very modern addition to this old Anglican church is a 700 bottle wine cellar and an adjoining gym! (10 more images below)
 If you're looking for more conversion inspiration, just keep scrolling…