Built area:     90m2  (972 sq. ft.)
Year built:     2012
Builder:     Donald Lamont
Photography:      Nigel Rigden
Awards:     The RIAS 2013 Award for Architecture
Bleak, cold and barren, Scotland's Isle of Skye remains one of the UK's most popular tourist destinations. The rugged beauty and the island's history, from 2,000 year old Celtic ruins to the departure point of 'Bonnie Prince Charlie', have strong pulling power. After a long period of population decline, there has been steady growth over the last 20 years. The home featured here is designed and built to withstand all that this North Atlantic climate can throw at it.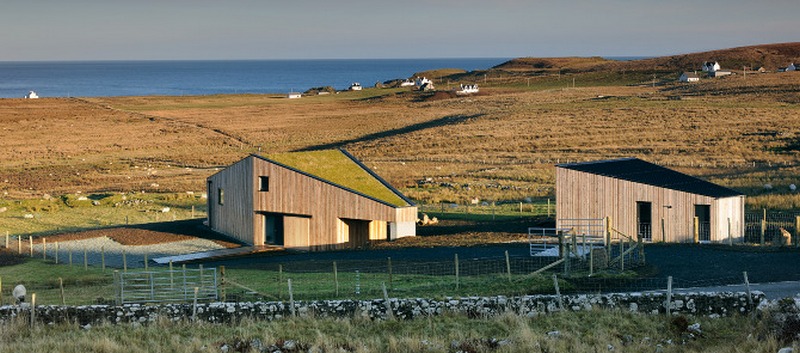 Built using the concept of the super-insulated home (passivehaus), the owners expect to spend a meagre £50 on heating costs. This, despite the fact that there are no solar panels or heat pumps… both well outside the owners' budget. By ensuring minimal bridging and using double glazing along with a green roof, a single wood fired heater is all that is required to maintain a comfortable indoor temperature.
From the architect:
"The new house on the northern tip of Skye, sits on the seaward side of the road, and has been designed to minimise its overall visual impact, and to withstand the extreme weather environment. The house sits low in the landscape below a turf roof, the larch cladding will soon fade to a beautiful silver tone.
The contract ran very smoothly, and has hopefully demonstrated to the wider public that contemporary design can be achieved on a modest budget, in a rural context. Further details of the project can be found in the attached Grand Designs Magazine article here."
Click on any image to start lightbox display. Use your Esc key to close the lightbox. You can also view the images as a slideshow if you prefer 

Since you're here, may we recommend Sustainable and Green Homes…