Built Area:     250.0 m2
Year Built:     2016
Photographs:    Bahaa Ghoussainy
Out-to-Out House is a resort residence that sits on a rather unique site. It's a two-story house that was built on a triangular plot of land. It enjoys plenty of green from the outside, prompting the architects to incorporate four outdoor spaces. There's a swimming pool, a terrace, an elevated inner courtyard, and a roof deck.
The ground level is rectangular-shaped and houses the sleeping area. Meanwhile, the upper floor hosts the living and common spaces. It features a gentle bend allowing the homeowners to enjoy the view of the surrounding scenery.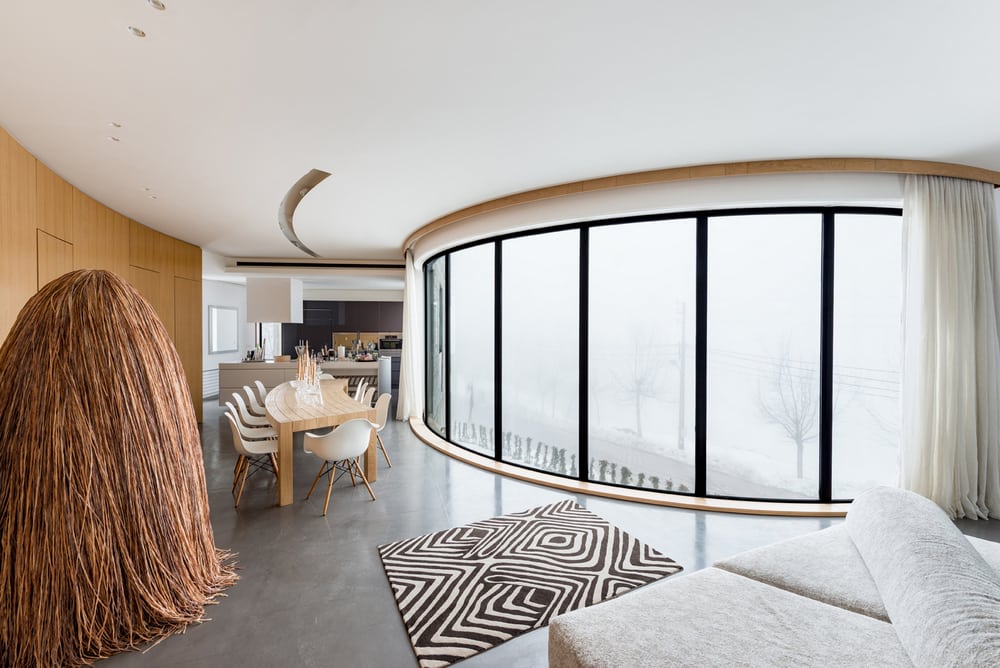 The seasonal cycles as well as the religious and national holidays were taken into consideration in the design of Out-to-Out House. The architects wanted to make sure the yearly occupancy of the resort is maximized.
Notes from the Architect:
Located in the snow resort of Faqra, Lebanon, the design of the house is formed around a circulation loop that joins a covered outdoor patio area on the ground floor to the front entry patio on the first floor, up to the roof deck above and back down to the ground floor through a spiral staircase in a continuous spatial movement that complements the interior spaces of the house. The volumetric expression of the house is derived from both the circulation loop and the orientation towards the view: the first floor bends towards that view, rendering it physically a bent space with bent furniture and lighting fixtures. Along this bend, the house unfolds internally as well as externally: from the balcony of the first floor once can look back at the house to see it both from inside and from outside. The facades are a mix of board formed concrete and fair-faced concrete, with teak wood louvers for the ground floor, and blackened steel railing.
Click on any image to start lightbox display. Use your Esc key to close the lightbox. You can also view the images as a slideshow if you prefer. 😎
Exterior Views:
Interior Views:
Drawing Views:
Speaking of unique houses, South Korea's Ga On Jai will surely interest you…