Lot frontage:     50ft (15 metres)
Built area:    1020 sq. ft. (95 m2) including single garage
 Photography:     Dylan Doubt
Cities and local governments around the world are struggling with the challenges of urban sprawl. The financial cost of providing roads and transport infrastructure and maintenance is crippling budgets. And, of course, the social costs of long commutes is well documented. A solution that has been adopted by some cities is small lot subdivision where as little as 300 m2 (3,250 sq. ft.) can be carved off an existing lot subject to suitable access being available. Some cities have allowed the construction of 'granny' flats on existing lots but with onerous restrictions on who can live in those new dwelling – complete with a penalty system for anyone who then tries to commercialise the flats.
Vancouver is taking a different approach to older areas of the city that were originally designed with service laneways behind each lot.  These are common in many cities around the world.  Rather than allowing the lots to be subdivided, laws have been changed allowing for a second home to be built on the same lot subject to certain building density restrictions. This means that the bigger the original home, the smaller the new, second home. This allows for a retention of garden areas and privacy.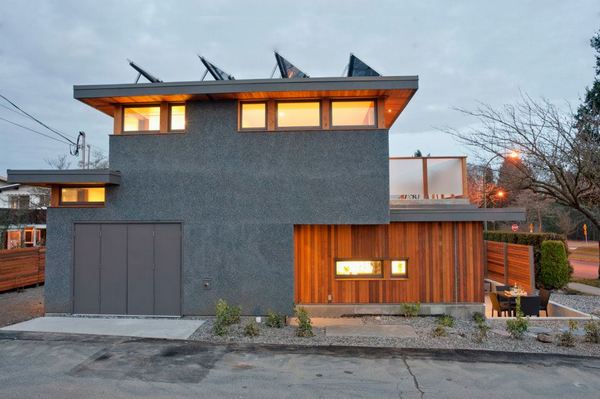 Vancouver based Lanefab Design/Build is focused on this opportunity and have designed a system involving both modular design and prefabrication to reduce overall costs and construction delays.  The system is also highly thermal efficient.They recently completed the City of Vancouver's first Net-Zero Solar Laneway House.
The house is 1020 square feet (the maximum allowed by the city's EcoDensity bylaw) and has a single bedroom and two bathrooms. It will be the new home for the owners of the existing main house giving them the opportunity to capitalise on the rental value of the existing dwelling.
"I think about one-third of people [who want one] are people who just want revenue property. They have a lot of equity, but not a lot of cash flow. Another one-third are people who want it for family – either kids moving back home to care for parents, or people who have a family member who can't afford a condo but can afford a laneway house. And the last one-third is people who want to downsize and move in themselves. They rent out their main house."
Bryn Davidson – Architect
The project was built using prefabricated Structural Insulated Panels (SIPs), has 95% LED lighting, a 500 gallon in-ground rainwater tank, drainwater heat recovery, a heat recovery ventilator, an air-source heat pump (for space heating and hot water), and an array of 12 solar panels on the roof. The solar energy system generates extra power in the summer – which is sold back onto the grid – and it draws on that stored power in the winter.
Click on any image to start lightbox display.  Use your Esc key to close the lightbox.  You can also view the images as a slideshow if you prefer  

Another small dual home development of around the same size is A Garden Home in Kent…