Area:     290.0 m2
Year Built:     2016
Photographs:   Martijn Heil – de Architectuurguide
Forest Villa stands on the periphery of a beautiful forest and natural reserve. It's a place meant of relaxation. It's where you go to when one wants to escape the continuous rush of life in the city. Although modern in design, the villa holds an old-fashioned charm that's hard to resist.
Forest Villa exemplifies an indoor/outdoor lifestyle. Floor-to-ceiling glass windows allow unrestricted views of the outside landscape. Additionally, the homeowners enjoy a shaded porch which they use no matter what time of day. Ventilation is easily controlled through mobile slats.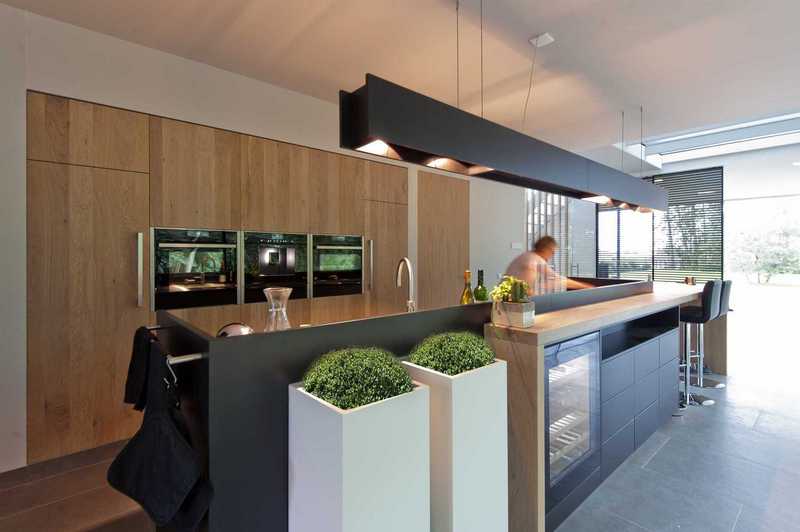 The luxurious ambiance is both serene and relaxing. This is because the home is wrapped in modified wood which contributes to its warmth. Life seems to move in slow motion accompanied by the sights and sounds of the surrounding forest.
Notes from the Architect:
Architect own house has a modern barn house designed in a forest on Landgoed Duivenvoorde. The rooms are oriented so that they all have a completely different experience of the environment. In the kitchen, the dense forest comes close to the façade. A huge window measuring 8.5 by 2.4 meters offers a panoramic view of the ever-interesting forest scene. The kitchen was also designed separately by the architect's own home and made to measure by a furniture maker. The linearly connected living room, kitchen and dining room are separated by atmospheric, semi-transparent panels. By sliding the panels away one large loft-like living space is created. Facade and roof are finished with biologically modified pine. This is virtually maintenance-free and has a lifelong shelf life.
We found it very important to keep the mass clean of all kinds of installations. Even the chimneys of the fireplaces are processed flat in the roof.
Among other things, 28 solar panels along the driveway, a heat pump and triple glass ensure that the home hardly needs any energy.
Click on any image to start lightbox display. Use your Esc key to close the lightbox. You can also view the images as a slideshow if you prefer. 😎
Exterior Views:
Interior Views:
Drawing Views:
Did you like this? If so, then you'll also like Croatia's Walnut Tree, House and Terrace…