Builder:     Henarise Pty Ltd
Colour Consulting :      Beth Adderley
Photography:      Cameron Ramsay
Newtown got it's name about 200 years ago. Since then, it's gone through a decline that made it a very old and tired town before a massive renaissance in the last decade or so. Proximity to the Sydney CBD, an endless selection of great ethnic restaurants, night clubs and theatres as well as relatively cheap real estate have been the catalysts. Unfortunately, both the lots and houses tend to be small and limiting. Adding a floor or amalgamation is often the solution. These owners did both.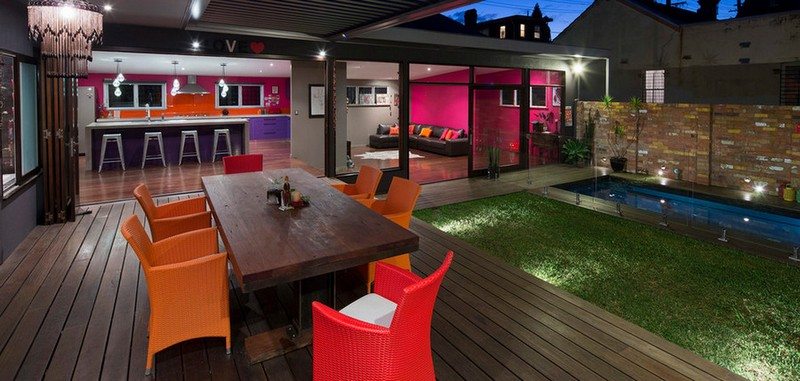 This project amalgamated two homes, retaining the the frontal façades with virtually the whole of the remainder being demolished and rebuilt. A central courtyard is now the focus with a brilliant colour palette, opening glass walls and a large deck creating the ambience of a private resort.
From the architects:
The designed involved knocking down a portion of the house to open it out to the new courtyard. The interior space steps down with the exterior so that levels can occurs both inside and out, connecting the two. The solar pergola opens up to the sun when needed and closes down with rain sensors or when its too hot.

The outdoor deck area is raised from the grass area but at the same level as the kitchen so that the occupants in the kitchen can look down over the pool. The solar pergola allows for all weather entertaining.
Click on any image to start lightbox display.  Use your Esc key to close the lightbox.   

Looking for more stunning renovations? Just scroll down this page…