Completion Date: March 2013
Photography: Katherine Lu
There's literally a hole through this house but it does not compromise privacy. This is an example of a clever design which welcomes as much breeze and sunlight without becoming too out in the open.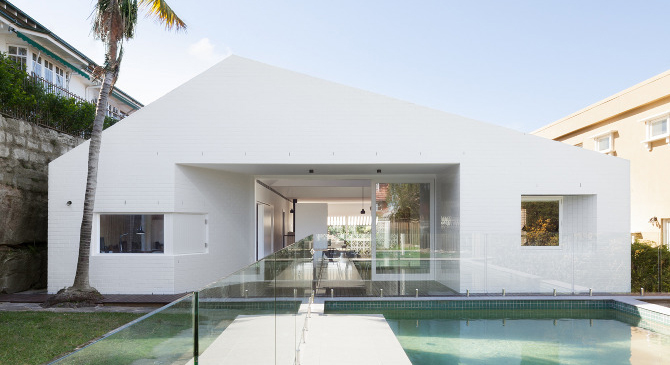 We think that the pyramid-shaped ceiling is also one of the most remarkable parts of this house. What do you think of this renovation?
Architect's Notes:
"The house has been in our clients family since the 1960s. An important part of our brief was finding a balance between new and old architecturally and sentimentally. Our client wanted to retain the romantic elements of the house, and its sense of humility in a suburb of flashy new builds. She was simultaneously keen to have a new start in this house and have it feel her own.
The strategy is a modest one: retain the original 1920s bungalow frontage and replace a poor 1960s addition at the rear. The primary move is to cave out central part of the plan as living spaces with clear views to the front (harbour) and back (garden). The central band of living space is contained on either side by cellular ribbons of bedrooms and utility.
The living space occupies the area underneath the peak of the original roof. The ceiling is removed and a series of distorted pyramid ceiling voids are created within the original geometry, allowing light into the centre of the plan, promoting stack effect ventilation and reinforcing the unusual order of operation of the house.
On the high side of the site, the master bedroom is nestled against an existing cliff-face, juxtaposing its harbour view and a close encounter with mossy sandstone and a cheeky orchid garden.
The intention is modest: a replacement addition that is fully concealed from the street and minimal facelift to the front."
Click on any image to start lightbox display. Use your Esc key to close the lightbox. You can also view the images as a slideshow if you prefer 8-)
If you liked this, you will also like viewing …