Year Built: 2012 (completed)
Area: 180 m2 but flexible  (1,944 sq. ft.)
Materials: Shipping containers, bamboo, green roof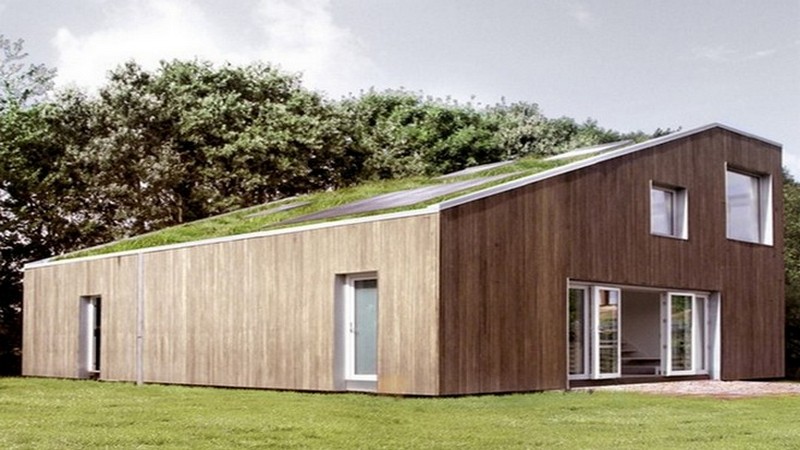 There are tens, perhaps, hundreds of thousands of used, unwanted containers littering shipping ports all over the world.  There have been many container home concepts and quite a few built.  The major objections and obstacles are the width limitation of 8′, heat transference through the steel shell and the perceived unattractiveness of the container itself.  The positives are a very low acquisition cost, significant durability and immense structural strength
Description:
Resource Conscious Architecture that can be exported to any place in the world. It is more then architecture; It is a sustainable product..
The WFH concept is modular, using 40 feet high cube standard modules as the structural system. By stacking two containers on one side of the dwelling and one on the other, the design creates significant volumes of usable space.  The home has three zones:
FLEX space:
The FLEX space is the heart of the house. It contains the living room, dining area and kitchen . The vaulted ceiling creates excellent light flow. The rest of the space is one story, defined by the landing that creates access to the spaces on the second floor.
The Landing:
The landing creates access to the second floor, but can also be used as a space for play, relaxation or work. You are still a part of the FLEX space, but because you are on the first floor you are drawn back from the action. It is an ideal place for a quiet retreat and still being able to observe what is going on in the house.
The Bedrooms:
There are four bedrooms but the design of the home means they can be used for multiple purposes – parent's bedroom, kids' bedrooms, a home office or hobby area. Three of the rooms have windows on two sides, giving excellent light and ventilation. It's possible to remove the wall, or part of it, facing the FLEX space. This adds flexibility to the layout and shows the structural system's ability to adapt do different needs.
Sustainability:
By recycling containers as the basic building unit, the homes already get a huge tick.  Add mandatory solar panels and the score gets better.  Just 30 m2 of panels makes the home fully self-sufficient.  Cladding and flooring is bamboo, a fully renewable resource.  The green roof harvests rainwater for toilets, washing and cleaning.
Economy:
The home is claimed to be very cost effective given it's very high level of energy efficiency although we have not seen pricing. The owners of the patent design concepts are confident of being able to build the homes and then ship them anywhere in the world competitively.
It's great to see container home innovation like this.  Many local councils have blanket bans on container homes.  We'd defy any building inspector to 'spot the container'!
Click on any image to start lightbox display.  Use your Esc key to close the lightbox.  You can also view the images as a slideshow if you prefer