Designed:    2001
Completed: 2005
Photography: Cameron Neilson
We have a strong bias toward this architect and have featured a few of his homes here and elsewhere.  His designs are very organic and he pays tribute to Frank Lloyd Wright as a foundation to his skills.  On his site, Oshatz writes:
"An architect is an artist, creator, logician of evolving aesthetic structures; a designer of not only the visual but the internal space. I see architecture as a synthesis of logic and emotion, exploring and fulfilling the dreams, fantasies and realities of my clients, whether they are individuals, corporate, or community identities."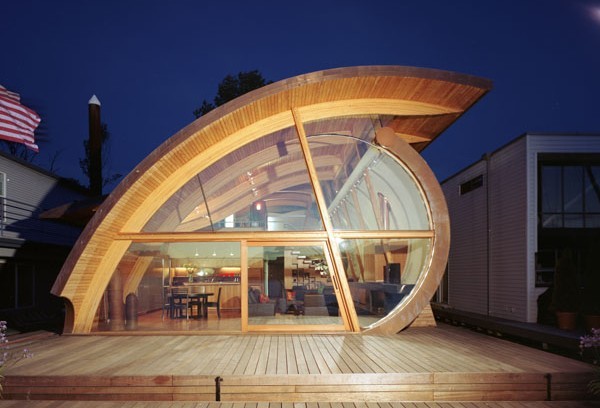 We feel this architect lives the dreams of his clients and produces almost magical homes as a result. His designs are all very 'unconventional' and yet all totally different from each other. Other than an organic feel, there is no common thread between his projects.
Obviously having adventurous clients helps when it comes to radical designs but we suspect clients wanting a very different home seek out Oshatz.
The home featured here is as different as they come.  It's become known as "The Floating House".  There's a very good reason. It is floating – on massive 80′ Douglas Fir logs. Here are the architect's notes:
'The Fennell residence, as a floating house, presented a unique opportunity for design. The imaginative use of curved glue lam beams evoke the poetry of the ripples and contours of a river. The expansive glass facade embraces the river and frames the sunset, and one accesses the deck via an expansive sliding glass door. A master bedroom sits over a study and looks out over the living dining area and out to the river beyond. The curvilinear forms create spacial differentiation that enhance the experience of time as light plays through the daily and seasonal changes.'
The video is longish at 10 minutes but we absolutely recommend it, especially the interviews with Bob Oshatz.
Click on any image to start the lightbox display.  Use your Esc key to close the lightbox.  You can also view the images as a slideshow if you prefer  

Meow Gallery: The gallery is empty.