Year: 2011 Photography: Andrew Lee, James Benedict Brown, Courtesy of Dualchas Architects Low walls of stones as barrier and its light charcoal exterior demonstrate that this house is an adaptation of the blackhouse. Indeed, it does not seem to be out of place in that Scottish farm.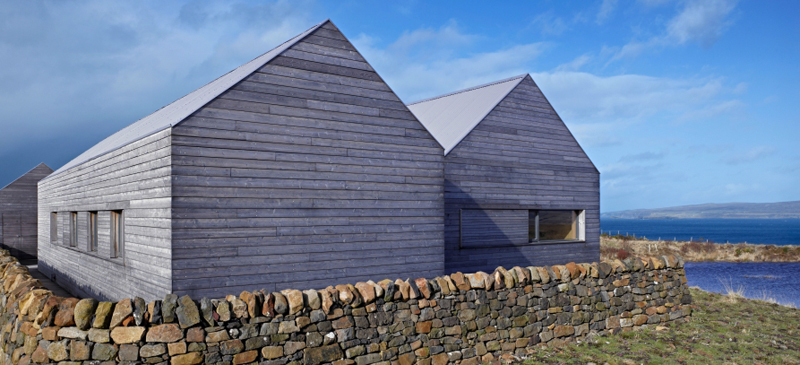 The client who is a Buddhist wanted a home suited for contemplation, and for some time of privacy and serenity. The oak wood walls extending up to the ceiling allow this feeling of being totally shut from the stress of the world. At the same time, it provides calmness from the splendid landscape it reveals through the windows. Architect's Notes:
"The first decision was to keep the building low to the skyline. This was done by breaking it up in to 3 separate elements: the living accommodation, the bedrooms wing, and a studio space.
A natural bowl in the landscape was turned in to a lochan by damming the out-flowing burns – this became the focal point of the views and was intended to increase the sense of tranquillity. Materials were chosen which were found in the surrounding landscape – metal from the galvanised gates, larch from the fence posts and stone from walls and fanks. Internally the building has a simple palette of Caithness stone and oak. We took these materials and forms and refined and abstracted them. The larch is used as a rainscreen to give a crisp finish, the Caithness stone has been honed to a smooth surface, the oak panels set out on a 600 grid and the stone walls have been detailed to help create enclosure.
The building is heavily insulated with external shutters as a barrier to the worst of the gales, and an air source heat pump to heat the water. The result is a building which not only uses sustainable technology, it sits low and easily in its landscape, inspired by the local materials and culture."
Click on any image to start lightbox display. Use your Esc key to close the lightbox. You can also view the images as a slideshow if you prefer 8-)
If you liked this, you will also like viewing …