Year:     2008 Photography:     Daichi Ano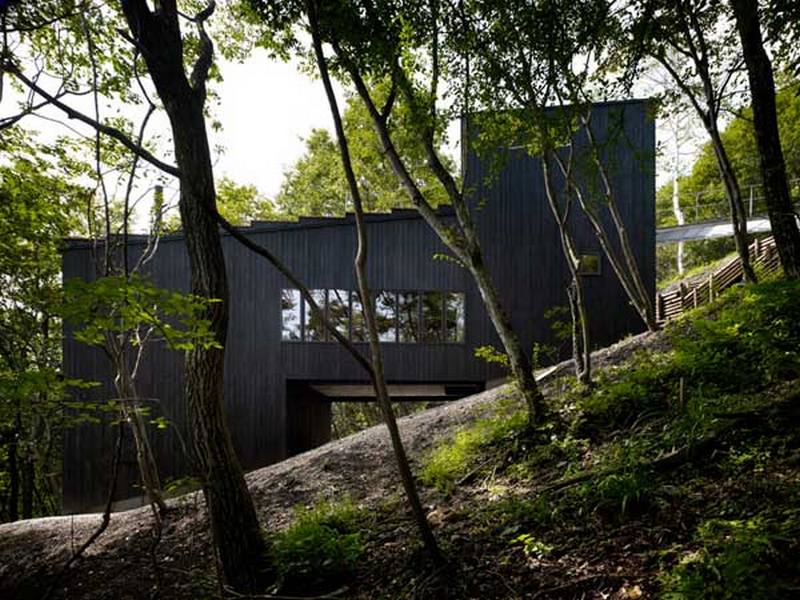 Built using traditional charred cedar cladding and simple timber panelling internally, this contemporary home is pure Japanese in feel.  The design is simple and uncluttered.  The home communes with it's environment and the view.  Here are the architect's notes:
"The site is located in a region of Karuizawa once marked off for development but now abandoned. A national forest borders the property, which means it is unlikely to be hemmed in by neighbors in the near future.
When I first visited the site, the steep vertical drop from the upper road to the rest of the property surprised me, but the crown of trees reminded me of the waves of the sea, and I imaged a houseboat floating beside an ocean of trees in summer, and in winter, a little lodge crouching in the snow. Standing at the site made me lose my sense of balance, but the trees taught me how to retain my posture.
Inside the house, the rooms are defined by a series of posts that extend up the walls and across the ceiling to form a boxy framework that is an abstraction of the forest itself. At the same time, the three-dimensional sensation created by the receeding forms actively orients residents within the space.
As visitors look out the windows, their gaze gradually falls from the crown of the trees down to their base, and soon enough, they will feel the outside world is within palm of their hand. Standing before the window, our impression of the exterior is at once weak and strong: We both face the mountain courageously and are swallowed up by it."
Click on any image to start lightbox display.  Use your Esc key to close the lightbox.  You can also view the images as a slideshow if you prefer  

Meow Gallery: The gallery is empty.
Another Japanese home that will definitely surprise you is the one by An American Architect in Japan…