Ormond Esplanade  -  http://www.jlma.com.au/ No, they (the client) said. Make it Saint Kilda. And, make it light. Make it bright. Make it tight. Add all...
Westbrook, Connecticut - Dave Herrle Photography: Sarah Grote Year Built: 2013 Hiking the Appalachian Trail in 2007 was a life-changing experience for David Herrle. The time he spent in the woods made...
Ottawa, Canada - Joseph Dupuis Floor Area: 355 sq. ft. Photography: Japhet Alvarez It may look like it's simply a storage unit from the outside, but these three shipping...
Brooklyn, New York - Corcoran Real Estate Group Original Build:     1915 Rebuilt:     2013 Built area:     6,813 sq. ft.  (631 m2) Photography: Corcoran...
Palm Beach, NSW Australia  -  Fergus Scott Architects and Peter Stutchbury Architecture Project duration:     2007 - 2011 Completion:     2011 Photography:     Michael Nicholson Awards:    ...
Hakone, Kanagawa, Japan  -  Shigeru Ban Architects Built area:     453 m2  (4,900 sf) Site area:     1,770 m2  (19,100 sf) Year built:    ...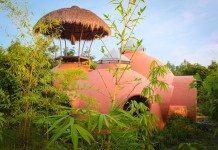 A mango farm somewhere in North-East Thailand  -  Steve Areen... Built area:    500 sq. ft.  (46 m2) + hammock 😉 Steve Areen went from flight...
Rural Connecticut  USA  - Daniel Libeskind Built area:     185 m2  (2,000 sq. ft.) Year:     2010 Let's not pretend here... we're fairly certain that Daniel...
Sydney  Australia  -  Carter Williamson Architects Year built:     2012 Photography:     Brett Boardman By old world standards, Sydney is a young city. The suburb...
Suffolk, UK - Ross Russell and Sally Morris Consulting architect: Alex de Rijke This home is unquestionably, one of the most innovative and demanding residential projects ever undertaken....
Ragged Island  Maine  USA - Alex Scott Porter Design Built:   2009 Area:   30m2 (360 sq ft) + veranda and outhouse of 14m2 (160 sq ft) Deciding...