Whistler, British Columbia -- Patkau Architects Project Duration: 2007-2012 Photography: James Dow / Patkau Architects Click on any image to start lightbox display. Use your Esc key...
Santa Rosa, California - Amy A. Alper Beautiful location, restricting views from the inside - this was the situation with the 1920's weekend cabin located near a...
Westbrook, Connecticut - Dave Herrle Photography: Sarah Grote Year Built: 2013 Hiking the Appalachian Trail in 2007 was a life-changing experience for David Herrle. The time he spent in the woods made...
If you find yourself praying for a bigger home, perhaps converting a church is your solution. They're always lofty so even a small church...
Trosa, Sweden  -  Widjedal Racki Bergerhoff Built area:     240m2  (2,600 sf) Year built:     2006 Photography:     Åke E:son Lindman Concrete, corten steel and pine have been...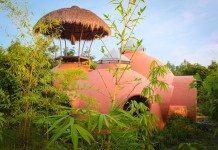 A mango farm somewhere in North-East Thailand  -  Steve Areen... Built area:    500 sq. ft.  (46 m2) + hammock 😉 Steve Areen went from flight...
Sharifi-ha House - Nextoffice Location: Darrous, Tehran, Iran Area:  1400 m2 Year Finished:  2013 Sharifi-ha House is designed by Tehran-based architectural studio Nextoffice. It features three motorized rooms that...
Catalonia, Spain - Institute for Advanced Architecture of Catalonia (IAAC) Built area:     75 m2 (810 sq. ft.) Year built:     2010 Photography:    Adrià Goula Designed and...
South Bass Island, Ohio - Ship on the Bay Usable area:     7,000 sq ft  (648 m2) Year built:     1924 Year landlubbered:     1986 Imagine...
Roppongi (Tokyo) Japan  -  Mejiro Studios Built area:     87.5m2  (945 sq. ft.) This is definitely a home for very confident people.  The entire focus...
Isn't this tiny home on wheels interesting? Protohaus was built achieving functionality, sustainability and beauty. This home, with an exterior dimension of 22'x8'6", was built on a...